PREMIUM
Crispy Muesli with Cacao Nibs
Regular price

Sale price

$5.00
---
Introducing our delicious Crispy Muesli with Organic Raw Cacao Nibs - the perfect way to start your day with a wholesome and satisfying breakfast. Made with a carefully crafted blend of premium ingredients, our muesli offers a rich and decadent flavour that will delight your taste buds.
Our crispy muesli contains a mix of porridge oat flakes, jumbo oat flakes, crispy wheat flakes, sultanas, raisins, toasted coconut chips, flaked hazels, apple flakes, and organic cacao nibs.
HOW TO USE

To enhance the uptake of minerals, vitamins, and other nutrients, Muesli should be soaked overnight or for a minimum of 20 minutes before consumption.

Our Crispy Muesli with Cacao Nibs are excellent as:

Toppings
Cold cereal
Home made granola
Ingredients

Porridge oat flakes, jumbo oat flakes, crispy wheat flakes, sultanas, raisins, Toasted coconut chips, flaked hazels, apple flakes, organic cacao nibs.
Nutritional Values

Typical values per 100g:

Energy 326Kcal
Fat 9.0g
Saturated 1.4g
Carbohydrates 50.5g
Sugars 12.2g
Fibre 12.2g
Protein 14.8g
Salt <0.5g
Allergens

Packed in an environment that also handles nuts, peanuts, sesame, seeds, gluten, soy, milk and sulphured fruits.
Shipping Information

- Ships within 1-2 business days
- Standard £3.25
- Next Day (order by 12:00pm) £5.00
Free Shipping Over £30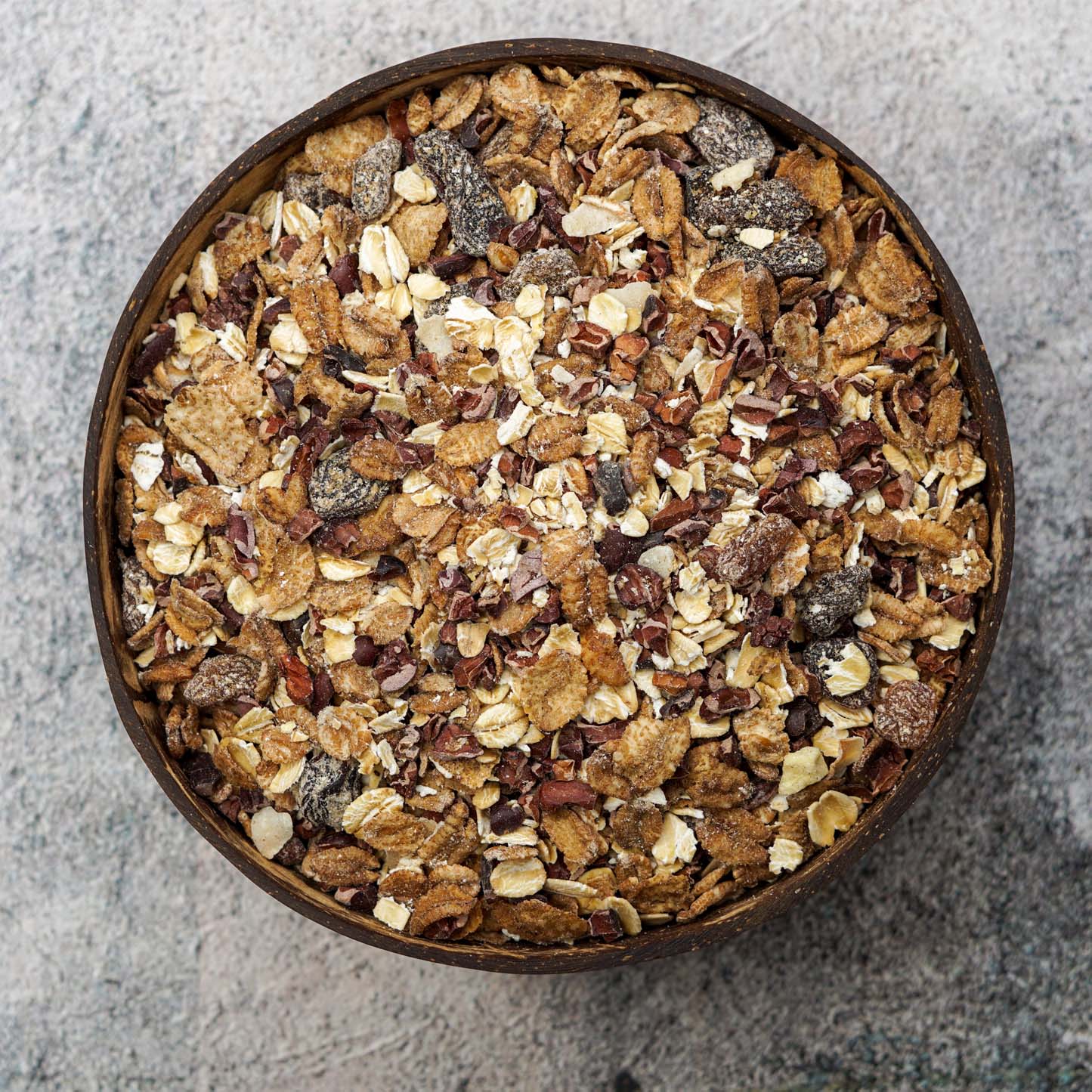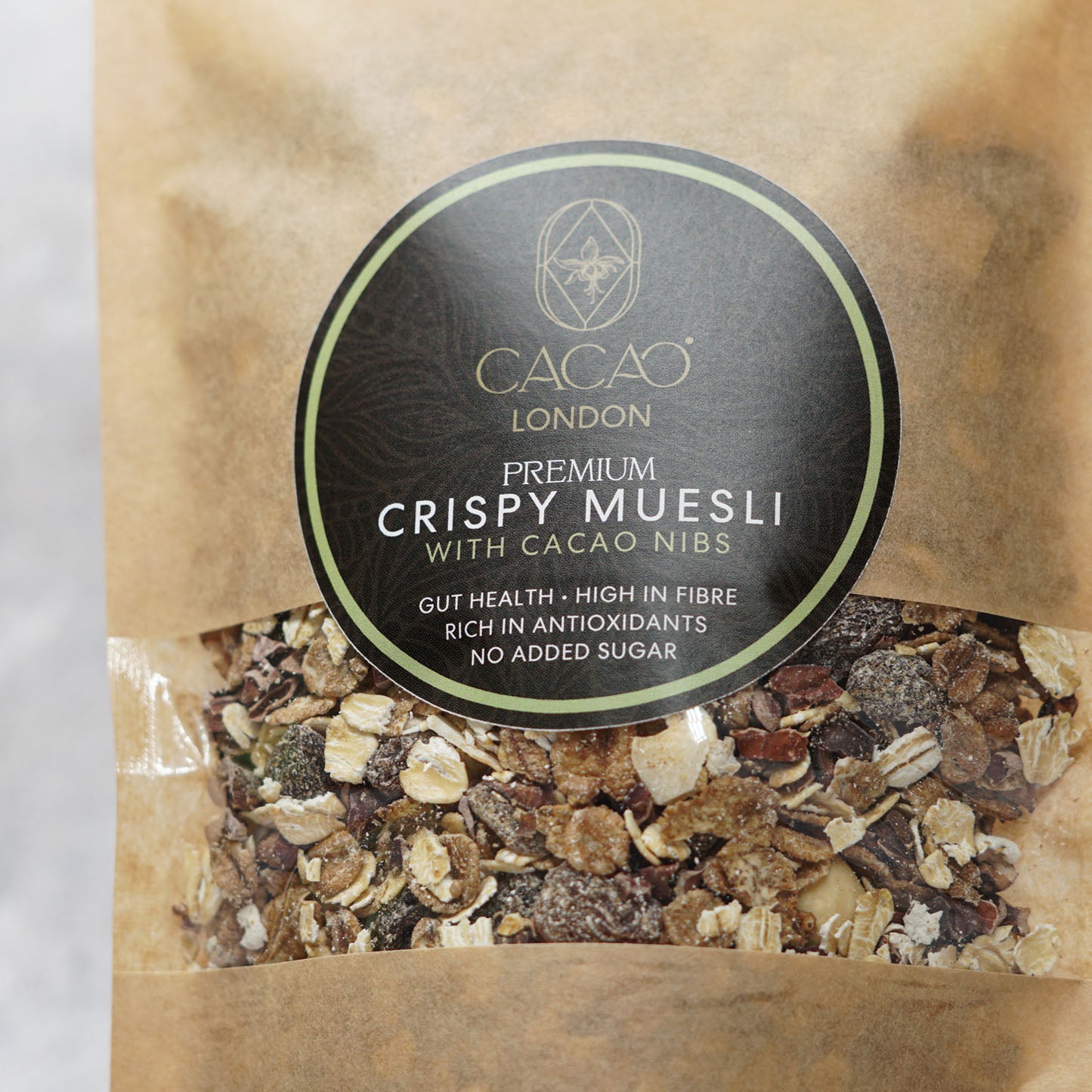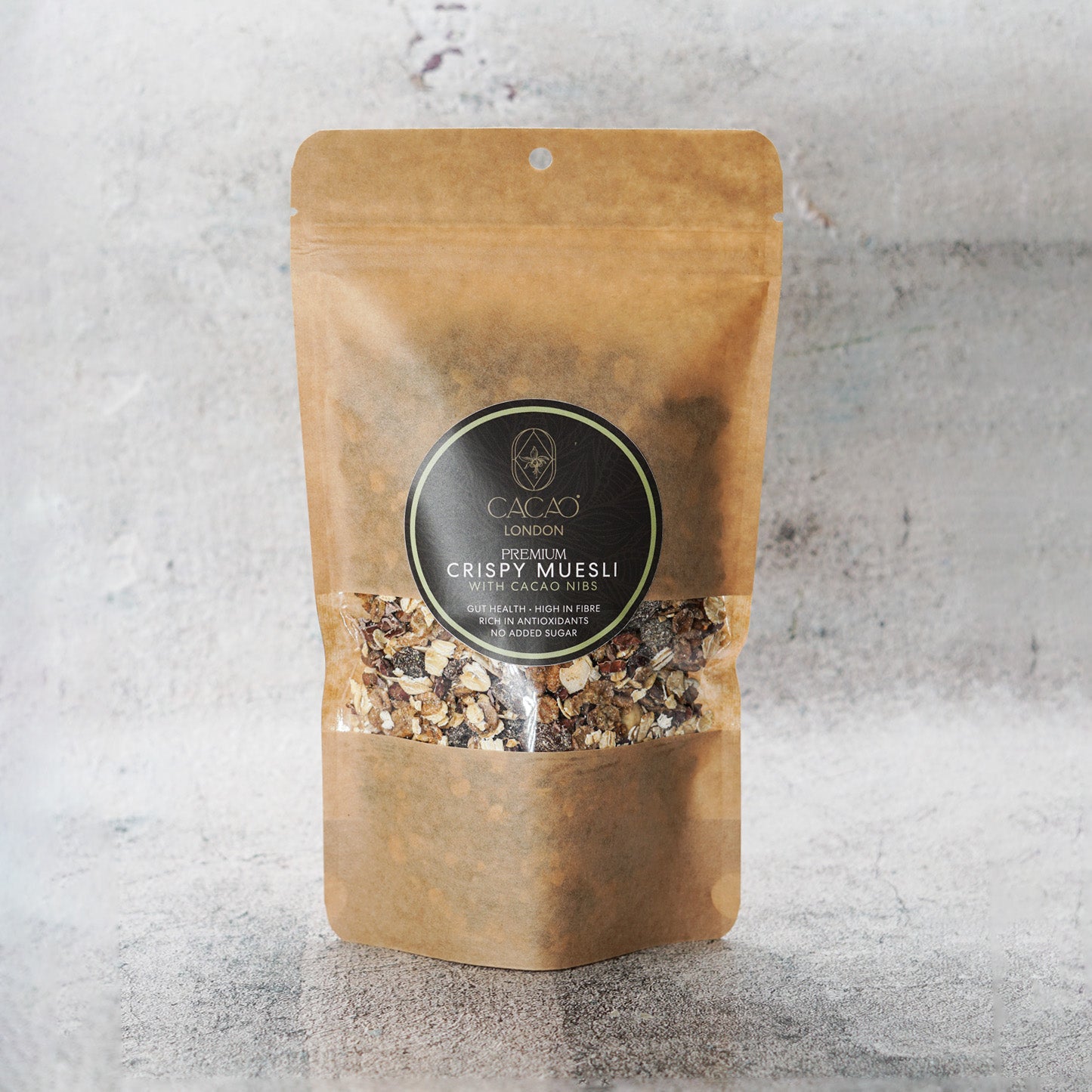 Our Crispy Muesli with Cacao Nibs is perfect for busy mornings when you need a quick and convenient breakfast that will keep you going all day. It's also a great option for those who are looking for a healthier breakfast option that doesn't sacrifice flavour.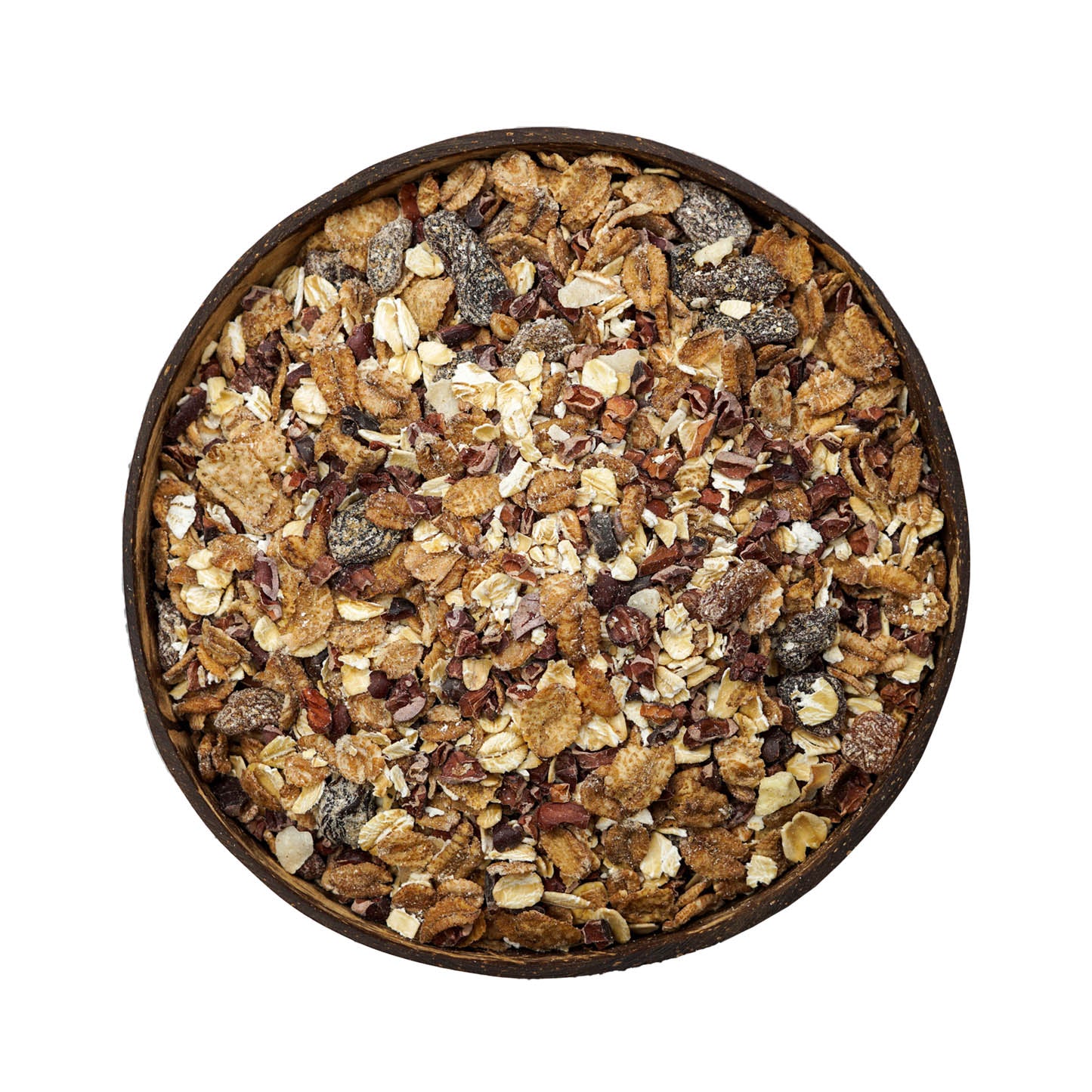 Ingredients
The crispy wheat flakes and oat flakes provide a satisfying crunch, while the sultanas and raisins add a natural sweetness to the mix. The toasted coconut chips and flaked hazels bring a subtle nuttiness and hint of tropical flavour, while the apple flakes offer a light and refreshing taste. And, of course, the organic cacao nibs bring a rich and indulgent chocolate flavour that is sure to satisfy your sweet tooth.
3 different ways to enjoy muesli
As a cold cereal
Muesli is a great option for a quick and healthy breakfast. Simply spoon some muesli into a bowl and pour milk or yogurt over it. You can also add fresh fruit or a drizzle of honey for extra flavour.
As a topping
Muesli can also be used as a crunchy topping for yogurt, oatmeal, or smoothie bowls. Simply sprinkle some muesli over your favorite breakfast dish for added texture and nutrition.
As a Homemade Granola
You can transform muesli into a delicious homemade granola by baking it in the oven. Spread some muesli onto a baking sheet and bake at 180°C (350°F) for 10-15 minutes, or until golden brown and crispy. Allow the granola to cool completely before storing it in an airtight container. You can enjoy it as a snack or use it as a topping for yogurt or ice cream.